Rhino Motion
Rhino Motion enables you to capture stunning Live Motion and Time Lapse in a single unit. Using a powerful, ultra precise drive system and a built in hi-capacity battery, you can film on multiple shoots without needing to swap motors or use external batteries.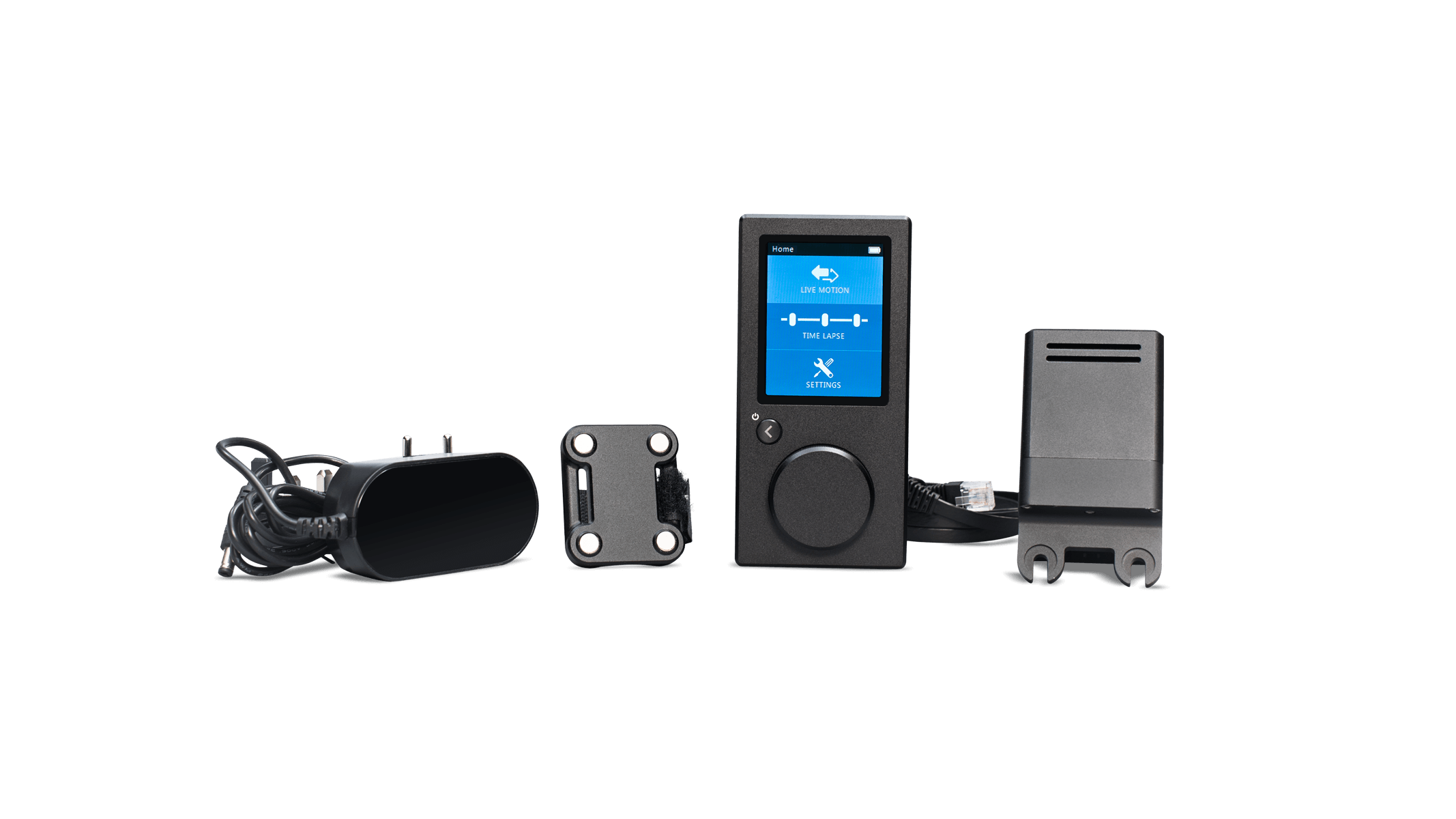 Features
Easy to use controller and compact design
Nearly silent motor
Full color QVGA screen makes navigation quick
Built in hi-capacity li-po battery
Single motor for both real time and time lapse moves
Patent-pending "Turn wheel to slide" moves your camera when you turn the wheel
Powerful Advanced Time Lapse mode programs amazing time lapses
Specifications
Weight

2.6 lbs (1.17 kg)
Load Capacity

25 lbs (11 kg) horizontal, 5 pounds (2.26 kg) at 20°
Battery Life

7 hours. If you enable power saving mode in Settings, you can get up to 24 hours of battery in Advanced time Lapse.
Battery Type

Controller battery is a custom lithium ion polymer 2-cell battery 23.3 Wh 11.1v 2100mAH
Charging Time

Should charge to full in 2-3 hours. Not recommended to leave the controller on the charger longer than 6 hours.
Charger Specs

-100-240V input, 13.5V output, 1.33A
-2.1 mm barrel connector
Motor Cable

Cat5e Ethernet cable. Cat6 or greater is recommended for lengths over 100 meters (328 feet)
 Note: When using a lower voltage than 13.5V, the battery will not charge to its full capacity. Do not use a higher voltage than 13.5V, as it will damage the battery and/or cause system failure.
For more information about Rhino Motion click HERE
---
---